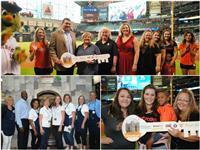 Coventry Kids Castle Helps Raise $85,600 for HomeAid Houston
August 13, 2014
Houston, TX - The Coventry Kids Castle, a royal playhouse designed and built by McGuyer Homebuilders, Inc., (MHI) as part of the Greater Houston Builders Association's Project Playhouse fundraiser, has grossed $85,600 for HomeAid Houston.
The amount was 7 percent over this year's projected budget, said Bette Moser, executive director for HomeAid Houston.
"Your team's commitment to working with HomeAid was unsurpassed," she said. "Because of your generosity and support, more will have a second chance at life."
HomeAid Houston will use proceeds from the sales of $5 raffle tickets to help build transitional housing for Houston's homeless men, women and children. The playhouse features a castle-like façade reminiscent of days of yore, with a more modern interior that includes air conditioning, television and a Playstation 3 gaming system. Toni Williams was crowned winner of the castle at a Houston Astros game in early July.
This is the eighth year GHBA has hosted the Project Playhouse fundraiser. The Houston Astros and The Astros Foundation are partners on the project.
Other companies integral in the fundraiser's success included Hall of Fame sponsors Champion Energy Services, Suncoast Post-Tension and Stewart Title. In-kind donations came from BrivicMedia, CBS Outdoor, Houston Chronicle, On-Target Marketing, Perfect Image Signs, Southwest Precision Printers and The Writer's Block.